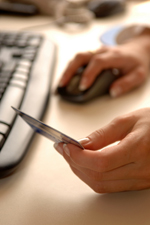 Your Competition is Making Money Online!
The ability to process secure online credit card payments is key to successful online sales. The convenience of online ordering and multiple payment options is not just expected, but is required by today's online consumer. Velocity Payment Systems can help you securely connect your online store to payment processing services.

Let Velocity Payment Systems help you sell on the Internet. Velocity Payment systems has partnered with First American Payment Systems to provide award winning eCommerce options. The sooner you obtain an Online Merchant Account, the sooner you can gain an important and competitive advantage. Take the first step toward a profitable internet solution and contact us about a Merchant Account today! All e-commerce web sites require an Internet Merchant Account to authorize, accept and process credit card payments in real-time. To realize the full potential of the Internet, business web sites need to be able to sell in real-time from their sites, allowing customers to place orders and pay for products directly on-line with their choice of credit card in a secure environment.